Autumn is a season of colors. The leaves, the sunset slowly sneaking in earlier each night — if there were ever a season built for golden hour photography, it's autumn.
This is also the season where it finally begins to cool off, and those of us who like to cook begin to think about the stove instead of the grill. Fortunately, eating healthy is perhaps easier in autumn than any other season. If you're open to cooking and eating at home more, your digestive system will benefit as much as your joints.
As an arthritis patient, the one color you want to avoid is bright red — the color that your face turns when you're fed up with joint pain and inflammation. Whether or not you care to admit it, what you put into your body has a lot to do with the color that protrudes onto your exterior.
On that note, the GLX3 Research Team dug into the cookbooks that line our kitchen shelves to uncover the best recipes for Autumn that also happen to fight inflammation, helping you to rest easy that you're doing your part — at least on the culinary front. 
In the spirit of the season, we've color-coded three of our favorite recipes, ensuring top-notch presentation to coincide with the nutritional effects. This means you can totally entertain this fall — even if only for yourself.
Yellow: Vegetable curry with shrimp or chicken (cooked)
1 lb shrimp or boneless, skinless chicken breast (precooked or cook it yourself)
1 bag frozen or fresh veggies, chopped
Whipping it together:
Heat up olive oil in skillet. Slice onion (careful not to cry too much!) and toss into the oil to saute until golden and caramelized. In a steamer, steam the vegetables until they are soft but not overcooked. After onion is cooked to your liking, stir in the coconut milk and curry seasoning to the pan, and add some Thai chili spice if you can handle the heat. Let everything come together for a few minutes, and then toss in the shrimp or chicken. For 3-5 minutes, stir everything together and allow both the meat and veggies to become coated with the curry.
Stir in noodles or serve in a bowl over rice.
Green: Avocado toast (with a twist)
2 slices of your favorite bread
1/4 tsp freshly squeezed lemon juice
Pinch of kosher salt and cracked black pepper
Sriracha or other hot sauce (optional)
Whipping it together:
In a small bowl, smash the avocado with lemon juice and salt. Toast the bread and spread avocado, Cook the egg in your favorite manner — we prefer fried — and lay over the bread once cooked to taste. Then, top with add the smoked salmon. We love a few drops of Sriracha or your favorite hot sauce on top, just to kick the flavor up a notch — just be careful not to go overboard.
Present the full rainbow with this veggie stir-fry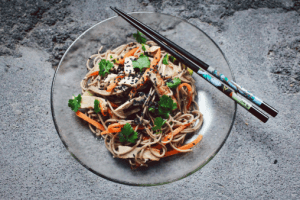 1 tablespoon cornstarch

1 1/2 cloves garlic, crushed

2 teaspoons chopped fresh ginger root, divided

1/4 cup extra virgin olive oil

1 small head broccoli, cut into pieces

1/2 cup snow peas
3/4 cup bell peppers

1 tablespoon soy sauce

2 1/2 tablespoons water

1/4 cup chopped onion

1/2 tablespoon salt

Turmeric to taste

16 oz flat noodles or spaghetti, par-cooked
Whipping it together:
In a mixing bowl, blend cornstarch, garlic, 1 teaspoon ginger, and 2 tablespoons vegetable oil until cornstarch is dissolved. Mix in broccoli, snow peas, bell peppers, and any remaining vegetables, tossing in half of the olive oil to coat (and to optimize the Omega-3 intake). Heat the rest of the oil in a skillet over medium heat. Saute vegetables in the oil for 2 minutes, stirring constantly to prevent burning. Toss in the noodles and give the mixture a healthy stir. Dump soy sauce and water. Mix in onion, salt, and turmeric, boosting the anti-inflammatory benefit even more. Cook until vegetables are done, let cool for five minutes, and serve.